get started today!
save your spot and get started with our exclusive offer!
Challenging, calorie-burning workouts with Rev It Up!
One of the keys to losing weight is finding a workout that you genuinely like doing. Martial arts workouts are fun and challenging. They burn calories while also building muscles and ramping up your metabolism. Regular Martial arts workouts can help you lose weight steadily, especially when combined with a healthy diet.
We're Here To Help You Reach Your Goals
Call or text us today at 856-315-4221 for more information.
Offering World Class Tae Kwon Do Instruction In Berlin, NJ
Rev It Up's Tae Kwon Do classes are not your every day boring workout. Our classes focus on self-defense, self-esteem and discipline and help burn fat and build lean muscle fast. Our in person classes in West Berlin, NJ are so fun... they are addicting!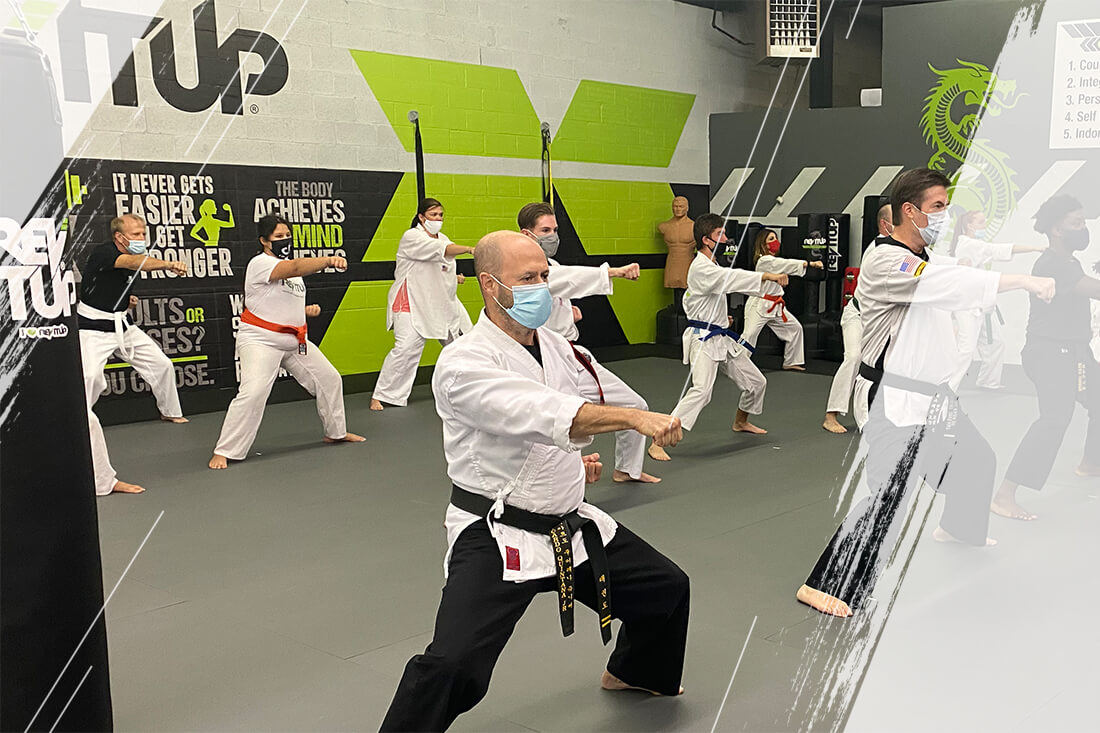 We All Face Challenges At Some Point In Our Lives
Martial arts will work your body in totally new ways. You'll build muscle you never even knew you had. That's what makes our Adult Tae Kwon Do program so powerful, you actually can see results!
View Our Classes
Self Defense For All Situations
It's not just a workout — it's a life-saving skill. Learn how to protect yourself and your loved ones, even if an attacker is bigger and stronger than you. People all over South Jersey turn to us for their self-defense training.
Meet The Staff
A Journey Of Personal Development
We're a big, goofy family here at Rev It Up. We cheer each other on. We make each other smile and laugh. The workouts are fun - the friendships made make it even more fun. We welcome newcomers with open arms!
Join Rev It Up!
Frequently Asked Questions
Definitely not! You will get fit, you will burn off unwanted calories and you will find it an awesome stress relief. But BORING, it is NOT!
The variety, challenge and the feeling of accomplishment when you master a self defense skill or technique is why students love our South Jersey adult Tae Kwon Do classes at Rev It Up Sports & Fitness.
But, in the end, it's the friendships and fun that keep students coming back. It's like their second family. Why not find out for yourself and register for our limited time offer on this page!
Yes. Tae Kwon Do is an individual journey. Your training is tailored to you. Anyone can benefit from martial arts training regardless of experience or fitness level. In fact, many students starting in our adult Tae Kwon Do classes would describe themselves as not good at sports when they first started. So you will fit right in!
Give yourself some time and you will be astounded at how much you improve! You'll find that our experienced martial arts instructors are trained to keep their teaching simple. So even the most uncoordinated person will develop 'ninja-like' skills!
don't hesitate - sign up for our adult tkd classes
Take advantage of limited time offers including introductory pricing, 3 or 6 month discounts, unlimited family plans, private lessons and more.